| | |
| --- | --- |
| Photographer | Image Title, Comments and Photo Data |
Paolo Cavazza
Crushed by the Book Fair (81KB)
Spring is the season of the Turin International Book Fair, a big event housed in the restored historical Fiat Lingotto factory. There are too many things to see: not only books, but also special guests, lectures, concerts, etc. and sometimes the "I want to see everything" syndrome takes its toll from visitors.
Pentax MX with Variozenitar 25-45mm, Kodak T-Max P3200 developed in D-76.

Stand Ladies (89KB)
I was intrigued by the silhouette of this young lady, slightly altered by the curved plexiglass panels, and by the light effects. I wish I had my Kiev 88 and a tripod!
Pentax MX with Arsat 80mm and K88-M42-PK adapters, probably 1/125s at f/5.6.

Hans Hockx
Shadows in Amsterdam (109KB)
Hmmm... spring *is* a difficult theme for a B&W worker. But this time of year gives us lots of low sunlight and large shadows that are fun for a photographer ;-)
Kiev 60 with Arsat Vega 120mm.BR>
Kevin Ing
Gomi No Hana #19 (95KB)
'Gomi No Hana' means 'garbage flowers' in Japanese. Back in 2000, I took a picture of some flowers growing next to my apartment complex's garbage area. The next day the flowers were gone because someone had taken a 'weed-whacker' to the whole area. After that I started taking pictures of little flowers and plants growing where people don't want them. This is number 19 in the series.
Kiev 88CM, 30mm Arsat. 1/30 at F11 on Fuji 400 color negative film.

Tourou (101KB)
'Tourou' are the Japanese stone lanterns you can find in gardens across the country. This one is at Zenkouji (temple) in Nagano prefecture. It is surrounded by cherry blossoms which symbolize spring in Japan.
Kiev 88CM, 180mm CZJ Sonnar. 1/60 at F8 on Fuji Provia.

Wilhelm Kaiser
First Blossom (59KB)
Kiev4, 2/85mm, f:5,6-8/250sec, Kodak Gold 100.

First Spring-Kermis (40KB)
Also an example again that the "slow" Kiev4 can be a snapshot-camera...
Kiev4, 4/135mm, f:11/50sec, Agfa Ultra 100.

Jeff Meyer
Spring Flowers at Santa Barbara coast (84KB)
88CM with Konica 160 film, the shutter speed was at 1/60 and the f-stop was f8 using a Kaleinar 150 lens.

Spring Roses at Santa Barbara Mission (87KB)
Taken at the Santa Barbara Mission grounds where it looked like the flower garden had exploded into the colors of spring.
88CM and Konica 160 film, the 150 lens again, with the shutter speed at 1/125 and the f-stop was at f11.

Dorothee Rapp
Fruehling (89KB)
It's always so beautiful when finally everything turns green after the long time of bare trees and earth during the winter. There are some lovely small flowers in my front garden which usually don't last long. I took the picture in late afternoon, had my ARAX only a couple of days and this is a frame from my first CN film with it.
ARAX w Arsat 80 and reversing ring, Kodak Portra 400NC, scanned on Microtek 8700

Sam Sherman
Spring Buds (95KB)
Photographed on dull black/upgraded Kiev 88 with K88cm wind crank and cloth curtains/B mount using Kilfitt 300MM f5.6 lens in KIHAS mount. Exposure - (hand/held) 1/250th at f8 - on Agfa Portrait 160 color negative film.

Lakeview (172KB)
I was on my way home from the Ocean County Camera Show in Lakewood, New Jersey, when, having my camera with me, I decided to drive around the lake in "Lakewood".
This is one of two rolls of Ilford XP-2 film I shot at the lake using ARAX/Kiev 88 with 80MM f2.8 Arsat normal lens. Exposure - 1/250 at f11.

Read the comments in the guestbook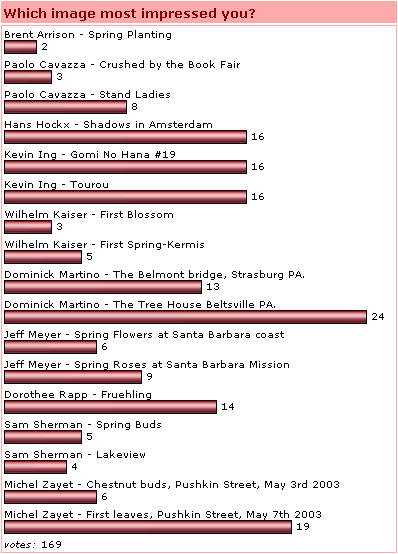 Voting closed on June 3, 2005.